What is cosmetic manufacturing?
Cosmetic manufacturing involves the production of various beauty and personal care products, such as makeup, skincare items, hair care products, fragrances, and more. It encompasses the process of formulating, testing, producing, and packaging these products for distribution and sale. Cosmetic manufacturing facilities typically follow strict quality control and safety guidelines at the same level as other health products to ensure the products are safe for use and meet regulatory standards.
In terms of manufacturing, most cosmetics begin as raw materials that act as active ingredients, preservatives, emulsifiers, fragrances, or some components all of which need a test for quality and consistency. These components are then measured and mixed together according to the formulation. Mixed components then enter at least one of these processes: heating and emulsification to blend oil and water-based together, and cooling and homogenization to cool the mixer and ensure the smooth distribution of particles. The output is then tested, and the finished products are going to be packaged and labeled which are ready to distribute to customers.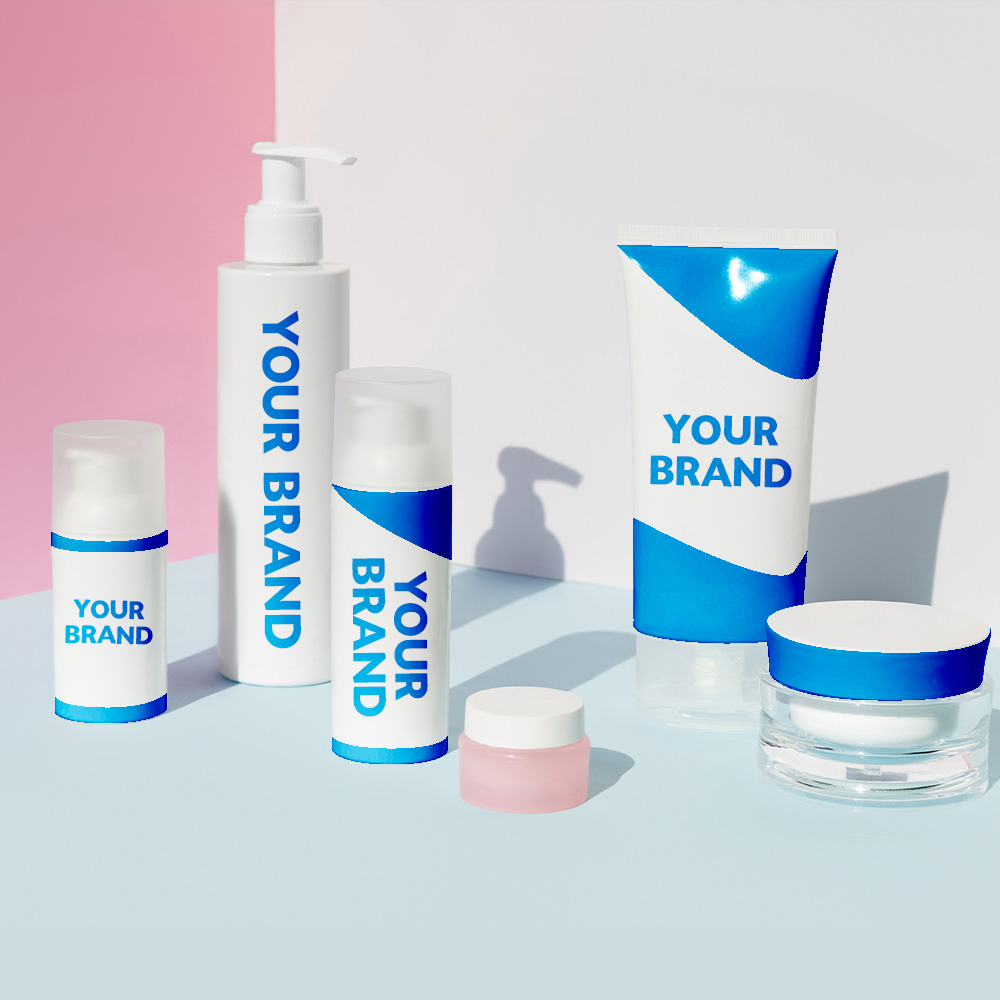 Why do you need to manufacture cosmetics in Thailand?
According to a report by Euromonitor International in 2020, Thailand's cosmetic market became the largest in ASEAN, with a value of USD 6.8 billion or nearly one-fourth of the regional market value. Also, Thailand's market is outperforming the ASEAN with 7.2-7.9% growth compared to ASEAN's average of 6%. Thailand also became the hub for cosmetic production in the region with the largest export markets of Singapore, Malaysia, and Indonesia. Thai cosmetic products are also more favorable for customers in CLMV countries.
The domestic market for cosmetics is also flourishing, with 38% of sales being skincare, 14% for haircare, and 11% for color cosmetics. Thai cosmetic markets are also high in purchasing power with 28% of them being for premium and high-end products. Currently, segments that have great potential for growth in Thailand's cosmetic industries include anti-aging, cosmeceutical products, and men's grooming products. 
As mentioned, manufacturing cosmetic products in Thailand can provide you with a number of benefits including
Strategic Location

: Thailand's geographic location provides easy access to markets in Asia and beyond. Also, Thailand already offers a number of modern infrastructure, including transportation, ports, and manufacturing facilities to support efficient production and distribution.
Regulatory Environment

: Thailand's regulatory environment for cosmetics is well-developed and aligns with international guidelines, providing clear and widely acceptable standards for product registration, labeling, and safety assessments.
Skilled Workforce

: Thailand has a skilled and experienced workforce in the industry, which can contribute to high-quality research and development, production, and distribution of cosmetic products.
Supplier Network

: The country has a well-established network of suppliers for cosmetic manufacturing from raw materials, packaging, and other components, streamlining the supply chain.

 
Cost-Efficiency

: The cost of labor and production in Thailand is lower compared to many developed countries while still competitive compared with other developing countries, leading to cost-efficient manufacturing.
Export opportunities:

Thailand has Free Trade Agreements (FTAs) with multiple countries which enhance market access and bring your product to a more competitive position 
Investment Incentives

: The Thai government offers various incentives to attract foreign investment, including tax benefits and streamlined regulatory processes. Also, local research institutions and universities offer opportunities for research and development collaboration, potentially leading to innovative products.
What to concern when choosing OEM cosmetic manufacturers in Thailand?
Even though there is a choice for you to choose between establishing your own facilities which give you complete authority on manufacturing and customization while requiring high initial investment, and using OEM manufacturers which are cost-effective and can speed up your manufacturing. As a result, using an OEM manufacturer can help you make a good start in Thailand. Meanwhile, you need to find the "trustworthy" ones that ensure their constant quality control and protection of your intellectual properties. 
If you are considering manufacturing your products locally in Thailand, these are factors to help you designate a "trustworthy" OEM cosmetic manufacturer available : 
Regulatory Compliance

: Understand the regulations, compliance requirements, and guidelines for manufacturing, quality control, and product registration in Thailand, which is currently under the control of the Cosmetic Act of 2015, regulated by the Thai Food and Drug Administration (Thai FDA).

 
Currently, the Thai FDA requires every manufacturer of cosmetic products to comply with the Good Manufacturing Practice or GMP. Also, if your products fit the classification as "Controlled Cosmetic" or "Specially Controlled Cosmetic", there is a further regulation requirement to follow.
Quality Control and Assurance

: Make sure that the manufacturer has provided robust quality control and assurance processes to ensure the safety, efficacy, and quality of your cosmetic products. 
Supply Chain Management

: Make sure that the manufacturer has built a reliable supply chain for sourcing raw materials, active ingredients, additives and fragrances, packaging and labeling materials, and other necessary components for manufacturing your cosmetic products without supply disruption.  
Skilled Workforce

: Make sure that the manufacturer has employed a skilled workforce with expertise in cosmetics manufacturing, quality control, research and development, regulatory affairs, and other relevant areas.
Intellectual Property Protection

: Make sure that the manufacturer has a measure to safeguard your intellectual property by understanding local patent, trademark, and copyright laws. We recommend working with legal experts to take care of your legal issues in Thailand.
Environmental Considerations

: Make sure that the manufacturer has implemented environmentally friendly practices and waste management systems to minimize the environmental impact of the manufacturing operations.
Technology and Innovation

: It is beneficial if the manufacturer embraces technological advancements in cosmetic manufacturing manufacturing, such as automation, data analytics, and digitalization, to enhance efficiency, productivity, and product quality.
Distribution and Logistics

: It is beneficial if the manufacturer also develops a solid distribution and logistics network to efficiently deliver your cosmetic products to local and international markets.

Seven Stars Pharmaceutical, your trustworthy cosmetic manufacturer in Thailand
If your options are choosing to manufacture your cosmetic through OEM manufacturers, Seven Stars Pharmaceuticals is considered your best choice available. Not only we are one of the leading pharmaceutical OEM manufacturers in Thailand that are currently certified under GMP PIC/S, SGS International, and ILAC-MRA, but Seven Stars Pharmaceutical is also available with a cosmetic manufacturing line that can provide highly cost-effective manufacturing capacity for products with constant quality and safety in the same level as our pharmaceutical production. 
Seven Stars Pharmaceutical currently offers a manufacturing solution for cosmetic products as both contract manufacturing using your own formulas of your original cosmetic, or as Original Design Manufacturing (ODM) with one-stop services from concept consultants, product development, product registration for approval and certification from local regulators, manufacturing, and distribution of final products in forms of solutions, creams, lotions, ointments, suspensions, tablets, powders, gels, sticks, and aerosols.
Rather than cosmetics, Seven Stars Pharmaceutical is ready to provide you a manufacturing power for various types of human drugs, veterinary drugs, vitamins and supplements, and consumer products that include active pharmaceutical ingredients such as soap, toothpaste, and mouthwash. We are also ready to provide you with distribution and logistics solutions to make your products available to local Thai consumers.
If you are currently searching for manufacturers of cosmetic or health products in Thailand, we recommend you contact our sales at Seven Stars Pharmaceutical through contact@sevenstars.co.th or phone number +662 420 3887 and 88.